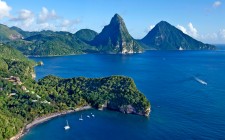 Ambergris Caye, Belize, October 10, 2016 (Newswire.com) - Recently, the Stride Travel team announced the top 7 adventure tourist destinations for the year 2017. Guess what? After conducting a thorough research and reviews, they selected the best among the best places. From different tourist spots and adventure experiences, Belize made it to the top 3 list.
According to the latest article by the Stride Travel, for years, Belize has been a top tourist destination for many American retirees. Most of them are looking for a place to settle down for a while which can be considered as both warm country and friendly. Just like a new home away from home for tourists. On the other hand, the Stride Travel advises to all tourists that, they don't need to wait for their retirement day to come just to experience Belize.
Tourists can take advantage of the Belize's world-class beauty now and experience its great scuba diving site. They can even enjoy snorkeling in a world class place! In Belize, tourists don't have to worry about getting lost in the beautiful island because they will be guided by expert tour guides. Hence, they would not miss the chance to dive in the famous Lighthouse Reef atoll, and snorkel in the deep clear blue water of Belize.
 As Belize ranks number 3 in the top list of must visit adventure destinations in 2017 with other classic countries, its little islands are improving too. For instance, the Blackadore Caye is an island in Belize known for its owner. Blackadore Caye is an improving island that was bought by a famous Hollywood actor Leonardo DiCaprio.
Right now, the shining island Blackadore Caye is one of the most popular retreat islands in Belize aside from Ambergris Caye. It is located right behind the popular barrier reef in Belize which is the second to the largest. Blackadore Caye was bought by Leonardo DiCaprio with a great goal in mind to make it as an eco-friendly resort. It is an island where the cleanest, greenest, and luxury ecosystem can be combined in one place.
Moreover, the future luxury resort in Blackadore Caye will be centered on health and wellness activities together with its sustainability. Through the use of renewable energy which is designed to power up the whole resort, it will also lift the biological health of all species on the island. It will also become a place for research station regarding the climate change as well as the impacts on habitat, and a lot more restoration plans.
According to the famous Hollywood actor Leonardo DiCaprio, he bought Blackadore Caye because he fell in love with it. Plus, it is truly unique with its magnificent barrier reef, its marine life with biodiversity and other species that anyone can imagine. Leonardo was also amazed at Belize's rich culture and Mayan temples.
The Blackadore Caye, Restorative Island will open sometime in 2018 which will feature an eco-conscious and luxury resort according to perezhilton.com.
Now, pack your bags and start to head your way to experience the beauty of Belize. Don't forget to vote for Belize in the World Travel Awards, it is officially open!
Source: Coldwell Banker Ambergris Caye
Share: