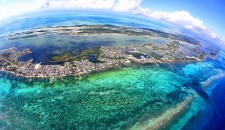 Ambergris Caye, Belize, January 1, 2017 (Newswire.com) -
Start planning now for your family's outdoor activities for this coming summer! Don't you want to soak your feet into a fine white sand beach with captivating water? How about satisfying your eyes into a magnificent view that could take your breath away in one glimpse? Well, you can enjoy the best of these worlds in one place if you want to.
Where? Only from one of the most famous places in the world, a world-class resort in Belize called Grand Caribe. Located on the small island of Ambergris Caye, just 2 miles north of  San Pedro town which is 2 miles north from the Ambergris Caye Island, the most luxury resort in Caribbean Grand Caribe Belize resort never fails to amaze tourists.
All condo units at this resort offer an awe-inspiring view of the Barrier Reef and the Caribbean Sea. ½ mile from the shore, the beauty of these magnificent works of nature is very visible. The resort of Grand Caribe is fronted with one of the few great sandy beaches on the island. Thus, this is proven to be a perfect place for families to spend their vacation and for couples to enjoy themselves.
The pier of Grand Caribe resort showcases a grand lounging deck and gazebo where you and your family can easily have a dip in the clear sea of Caribbean. With 5 swimming pools, comfy hammocks and 2 hot tubs, you and your family will never be bored and out of something to do. Take an afternoon nap, read your favorite book, or listen to music all day while indulging yourself into this little paradise.
What can you expect in this resort? The resort of Grand Caribe in Belize is proud to share that they have a wide selection of units for their guests and investors. They have condominiums with 1, 2, 3, and 4 bedrooms that are all luxurious and spacious. Each condo unit is marvelously furnished and fully equipped with top of the line kitchens. Aside from the awe-inspiring view of the Caribbean Sea, all condo units have the pleasing view of well-maintained grounds and swimming pools.
What else can you enjoy in this resort? In addition to the mentioned pools, your kids will certainly enjoy their shallow area that is perfect for toddlers. Meanwhile, there is a fountain and bridge suitable for older kids; deep pools for teenagers and of course, a hot tub for all ages. There are hundreds of beach in this resort where you and your family can swim or play. Once your families get hungry after a long day of outdoor activities, grab their on-site restaurant.
The chance to own one of the spectacular three bedroom penthouse units at a dramatic price reduction is now available exclusively through Coldwell Banker Ambergris Caye. To learn more visit the links below and discover the incredible value of this revenue producing penthouse.
Source: Coldwell Banker Ambergris Caye
Share: