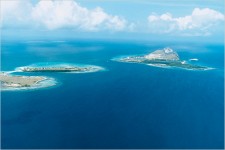 Ambergris Caye, Belize, April 21, 2017 (Newswire.com) - The growing interest in eco-living has changed our perspectives. The unexpected chaos brought by continuous developments commercially and economically creates great impulse urging soul seekers to get rid of typical holidays and engage themselves for more viable shores like Belize.
Globetrotters prefer to visit an eco-community and consider it as a fulfilling experience that changes their attitude toward the world and the way they live. They tend to seek an alternative way of life, with the thought of sustainable living and eco-communities that can be a part of the dramatic change that the world needs.
Belize welcomes visitors with a balance of spiritual awakening and environmental protection. Belize offers a lot to experience, from short-term stays to immersive weeks, focusing on social and spiritual discovery.
This small-in-size country is filled with adventure and culture valuing personal privacy and freedom. Hospitable people, either locals or expats, welcome guests and visitors with open arms, eager to help in any possible way.
If you are looking for eye-catching beaches, swaying palm trees and beautiful sunsets, Belize, initially known as British Honduras, is the right place for you. In fact, this Caribbean paradise has been chosen by international publications as a top retirement location in Central America.
The jungle of Belize has a warren of national parks and wildlife sanctuaries providing a safe haven for wildlife.
Some of the best locations in Belize are Ambergris Caye, Caye Caulker, Cayo, Corozal, and Palencia.
Ambergris Caye is considered the biggest and the most famous island destination in Belize. It is common to see plenty of people walking along the beach and biking through San Pedro Town. Whether by golf cart or just by your feet, you will enjoy sightseeing along the beach. If you are a luxurious type of a person, you will find lavish resort communities and estates offering the best service.
If you want to be isolated and be relieved from the noise and congestion in the outside world, you can take a 30-minute boat ride from Belize City to have a wonderful escape on Caye Caulker.
Furthermore, if you are looking for serene life in Belize's inland, you must see the lush and mountainous area of Cayo District. The life in this place is very simple; although there is some infrastructure already developed, literally it is still enveloped by archaeological sites, recent oil and gold mines.
A quite modern community, Corozal is situated in Northern Belize. Basic amenities such as banks, restaurants, commercial shops, and even medical services by professional doctors and dentists are available.
In the southern part of Belize, you will find a more majestic peninsula named Palencia, which is divided by an airstrip, referred to as the north and the south. In the south portion of the peninsula, there are restaurants, cafes, banks and small commercial shops, while in the northern peninsula, you will experience a confounded lifestyle and hedonistic resorts.
With the modern developments in some parts of Belize, the country has kept the ecological balance among communities, making it a great retirement destination, so contact Coldwell Banker Belize now. 
Source: Coldwell Banker Ambergris Caye
Share: