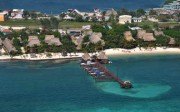 Real estate agents in Ambergris Caye have seen and heard it all and there are some information and details that should be shared with them to better empower them to sell your vacation property.
Ambergris Caye, Belize, December 22, 2015 (Newswire.com) - Licensed and professional real estate agents can be one of your best assets especially when you want to list your Belize vacation property and sell it. These real estate agents are the best people to hire to attract more real estate property buyers through their competent marketing skills, network and expertise. They are the experts that real estate investors of Ambergris Caye, Belize can trust in terms of negotiations and they have the obligation to embody and represent the sellers on their best interest.
Real estate agents in Ambergris Caye have seen and heard it all and there are some information and details that should be shared with them to better empower them to sell your vacation property. Transparency on the part of the client is a must especially in the middle of the buying and selling phase because this opens up a plethora of opportunities to meet their goals and needs. This can be compared to a simple analogy between a patient and a doctor; the doctor would need the important details to make the appropriate diagnosis and treatment for the patient, otherwise, when the patient gives false or limited information then the life of the patient is put into peril.
It is definitely important to establish and get the most out of your relationship with the Ambergris Caye real estate agent that you hired; however, there is certain information that could be detrimental to securing a quality and experienced agent.
Here are some of the particulars and facts that you should not be revealing to the real estate agent:
  Never tell a real estate agent that you are not sure about selling the property. Real estate agents do not get paid on a salary basis and they only receive commissions after they make a successful sale. The time, effort and money spent on marketing and advertising a property come from the real estate agent himself. It would definitely be a red flag to the agent if he feels that after all the effort to list and promote your house that you would suddenly pull back and say that you've decided against selling your property. This would definitely be a waste of money and effort on his part.
  Telling real estate agent that you don't have a timeframe set is absolutely a bad idea. If there are no deadlines to adhere to, then the real estate agent would potentially think that you are not really committed to selling your property. This perceived lack of commitment could lead them to think that they would just be wasting all their effort and money.
  Do not lie about the reason why you are selling the property. There is definitely a need to divulge important information about you, your property, your financial status and the reason why you would like to sell your home. All of this information could make a real estate agent's job a lot easier to find ways to help you make the sale. There are really a lot of benefits of being honest with your broker so he could work towards your best interest.
  Do not overprice your property. Overpricing and setting non-negotiable expectations on the vacation home you are selling does not give your real estate agent the flexibility with the offers he could make to the potential buyers. Overpriced properties are those that are left in the market for quite a long time because most buyers will make online searches and the very first things they look at are the prices; and if there are comparable houses that are reasonably priced then they would most likely choose a Belize vacation property other than yours.
  It's also not a good idea to tell your real estate agent what your friends think the property is worth because it might be the cause of arriving at a very unrealistic price because they are not very well versed with the real estate business. The best person to ask about this detail is actually your real estate agent and he doesn't have to compete with your friends' opinions.
The experienced agents at Coldwell Banker Ambergris Caye want to secure the best possible deal for you and we are committed to understanding your position, concerns and goals and work tirelessly to get them.
Share: